Keeping you safe on Holiday – Our Covid Safety Processes
At Pinelodge Holidays we have always prided ourselves on our rigorous cleaning and hygiene standards and the Health and Safety of our guests and staff is always our priority.
We have been awarded the Visit Britain 'We're Good to Go' industry standard in recognition that we have confirmed that we are following Government and industry COVID-19 guidelines, ensuring processes are in place to maintain cleanliness and aid social/physical distancing.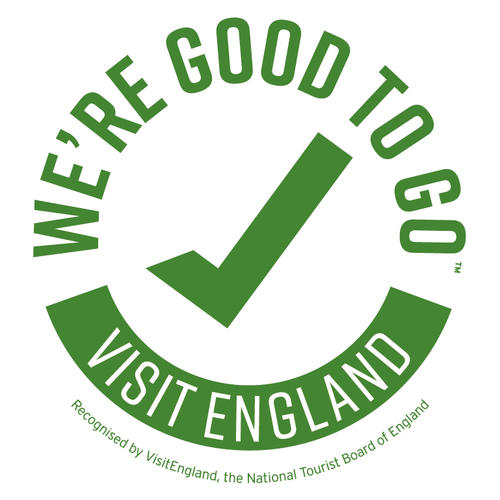 You can rest assured that our dedicated Housekeeping team will be adhering to the strict Government Guidelines so you can confidently enjoy a holiday in one of our self-contained luxury lodges and keep you and your family safe.
We have always operated a 5-star cleaning regime on our parks but we have now added some additional elements for further reassurance.
Each lodge has been given a thorough clean before reopening and our Housekeeping procedures and the scope of every lodge clean has been enhanced to meet the requirements of the Government's guidance.
You may notice some changes to your lodge as we have removed some of the non-essential items from the lodges as this is widely considered to represent best practice in current times. This includes items like throws, cushions, board games and some items of crockery. However if you require any of these – just ask! You will also find some cleaning products in your lodge that you are welcome to use throughout your stay. To assist in keeping our Housekeeping teams safe we would also ask that all rubbish is sealed and taken to the bin storage areas on your departure.
The Housekeeping team will be following our Covid-19 safety processes and using industry leading products to clean the hard and soft surfaces of your lodge. Hospital grade cleaning products will be used that kill 99.9% of bacteria and are trusted by healthcare professionals. Additional time has been allocated for the cleaning of each lodge to ensure that your lodge is clean and safe upon your arrival. Commonly touched areas such as door handles, light switches, kitchen surfaces etc. will all be disinfected as part of our thorough clean. Once cleaned, your lodge will be given our Clean Plus Stamp. This also lets you know that no one else has entered the lodge before your arrival.
We will continue to operate the highest standards for the maintenance of our hot tubs. Hot tubs will continue to be checked by our dedicated hot tub team twice a day during your stay. These teams will wear PPE and maintain social distances. Their role is to ensure the safety and cleanliness of the water is maintained at all times. Your hot tubs will be cleaned and prepared for your arrival but the water temperature may not be up to the desired temperature until 6pm on the day of your arrival as the water is changed during each changeover. Please be assured that all our procedures follow the guidance from The British and Irish Spa Hot Tub Association (BISHTA).
Masks will be required to be worn as determined by law or Government guidelines.
Our dedicated team will still be available to answer your questions and give you the customer service standards you have come to expect from Pinelodge Holidays. They will follow our Covid-19 safety processes when attending to any question or concern that you may have so please do not hesitate to get in in touch with the team if you have any questions.
Please also remember that our lodges are generously spaced out from one another and are located in beautiful surroundings with open spaces and countryside on the doorstep. You can therefore, choose whether to get out and explore or simply relax in the comfort of your own self-contained lodge.
Further COVID-19 Information